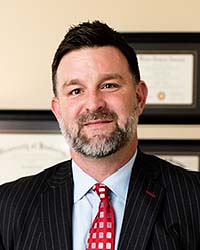 Conrad Cessna
Criminal Defense Lawyer Serving London and Southeast Kentucky
Conrad Cessna is an attorney and founding partner of the Cessna & George Law Firm, where he spearheads the firm's criminal defense practice. From the firm's London office, Conrad represents clients throughout Southeast Kentucky who have been charged with DUI, drug crimes, violent crimes, white-collar crimes, conspiracy, and other Kentucky misdemeanor and felony offenses. Conrad is committed to obtaining a positive outcome for his clients and is dedicated to defending the rights of the accused and ensuring they are treated fairly in our criminal justice system.
Mr. Cessna's practice areas:
Personal Injury

Wrongful Death
Slip and Fall Accidents
Auto Accidents
Medical Malpractice / Nursing Home Negligence
Motorcycle Accidents
Workers' Compensation
Truck Accidents
Social Security Disability / SSI

Criminal Defense

DUI
Drug Crimes
Violent Crimes
Felonies
Misdemeanors
Conrad graduated from North Laurel High School in London in 2000 before heading up the road to Georgetown College just north of Lexington, where he played on the school's baseball team for all four years before graduating in 2005 with a degree in Management. He earned his law degree in 2010 from the Thomas M. Cooley School of Law in Grand Rapids, Michigan. Conrad is a member of the Kentucky Bar Association and the Laurel County Bar Association. He is admitted to practice in all Kentucky courts as well as the United States Federal Court.
In his free time, Conrad enjoys spending time with his family, including his wife Johnna and daughters Jayci and Jasper, as well as golfing and watching sports.