PTSD After a Kentucky Car Accident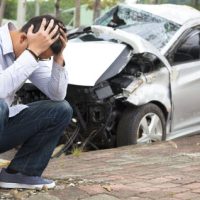 A car accident can cause lifelong physical injuries and psychological effects. And contrary to what many people think, the psychological effects of a car accident can be just as damaging as physical injuries. One type of emotional injury you can suffer in a Kentucky car accident is post-traumatic stress disorder (PTSD). If you develop PTSD after being involved in a Kentucky car accident because of another party's negligence, you might be able to recover compensation for your PTSD from the at-fault party. However, the unfortunate reality is that insurance companies often don't acknowledge that PTSD is among the major consequences of car accidents. Often, insurance companies are reluctant to compensate car accident victims for PTSD.
What Is PTSD?
Post-traumatic stress disorder, or PTSD, is a condition that affects the mind. This condition occurs because of trauma. When a person experiences or witnesses a traumatic event, they can develop PTSD. A serious car accident, especially one that causes severe injuries or death, is a traumatic event that can cause PTSD. In fact, according to research, car accidents are the leading cause of PTSD among the general non-military population.
Car accident victims who have PTSD may be able to get compensation for their pain and suffering. While it can be challenging to prove a claim for PTSD damages, it is not impossible, especially with the help of a qualified personal injury attorney.
Symptoms of PTSD
Symptoms of PTSD may take time to appear after a car accident. At times it takes years for symptoms to appear.
The following are some of the signs and symptoms of PTSD to watch out for after a car accident, according to the Mayo Clinic;
Frequently having distressing memories of the accident
Having upsetting dreams or nightmares about the accident
Feeling as though the accident was happening again (flashbacks)
Getting emotionally distressed when something or someone reminds you of the accident
Trying to avoid thinking about or discussing the accident
Avoid places, people, or activities that remind you of the accident
Feeling hopeless about the future
Having negative thoughts about yourself, other people, or the world
Difficulty maintaining close relationships
Feeling emotionally numb
Having difficulty concentrating
Trouble sleeping
Being irritable or experiencing outbursts of aggressive behavior
Treating PTSD
The following are some common treatments for post-traumatic stress disorder;
Cognitive therapy: This type of talk therapy can help you recognize patterns that prevent you from moving forward.
Exposure therapy: This treatment helps you safely face memories that cause you to re-experience trauma.
Medication: For example, your doctor may prescribe antidepressants to moderate PTSD symptoms. However, doctors often use medication together with therapy to determine the disorder's underlying cause.
How an Attorney Can Help Your Recover Compensation for PTSD
Having a skilled personal injury attorney to advocate for you if you are suffering from PTSD after a car accident is vital. An attorney can fight for you if the insurance company tries to discredit your situation or diagnosis. A skilled attorney can help you gather enough evidence that can help you prove that you deserve to be compensated for PTSD.
Contact a London Auto Accident Attorney
If you experience PTSD after a Kentucky car accident caused by another party's negligence, contact a London auto accident attorney at Cessna & George Law Firm.
Source:
forbes.com/advisor/legal/auto-accident/ptsd-car-accident/#:~:text=car%20accidents%20are%20the%20leading%20cause%20of%20this%20type%20of%20psychiatric%20disorder%20among%20the%20general%20non%2Dmilitary%20population