Warning Signs Of Nursing Home Abuse And Neglect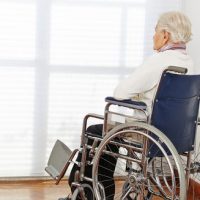 Federal and state laws grant nursing home residents specific rights. For example, according to KRS 216.515, nursing home residents should be kept free from physical and mental abuse. According to the law, residents should also be kept free from restraints except in emergency cases or as thoroughly justified by a physician. If a nursing home resident suffers neglect or abuse, they or their loved one can take action through civil law.
As someone who has a loved one in a nursing home, the last thing you expect, especially since you took your time to research nursing homes before you took your loved one to their new home, is for your loved one to be abused or neglected. Unfortunately, cases of nursing home residents being neglected and abused are quite common. It is crucial that you know the signs of nursing home abuse and neglect. By understanding these signs, you will be in a better position to protect your loved one and help him, or her hold a staff member or nursing home liable for any injuries and damages that occur.
Warning Signs of Physical Abuse
Physical abuse is when a nursing home resident suffers physical pain, injury, or impairment due to neglect or maltreatment. Physical abuse is quite dangerous as it can cause life-threatening and long-lasting injuries. Examples of acts that constitute physical abuse include;
Pushing
Slapping
Kicking
Misuse of restraints
Physical neglect, which includes not providing the necessary food, sanitary environment, or clothing to a resident
Some of the common warning signs of physical abuse include;
Bruises and abrasions
Recurring injuries
Unexplained injuries
Malnutrition, sudden weight loss, and dehydration
Staff refusing to leave a patient alone with family
Withdrawn behavior
Broken bones
Usually, if an injury is undocumented or untreated, it is a sign that it was purposefully or negligently inflicted.
Warning Signs of Psychological or Mental Abuse
Psychological or mental abuse can affect your loved one's well-being and self-esteem. Some of the warning signs of psychological or mental abuse include;
Withdrawn behavior
Nervousness
Anxiety or depression
Unusual behavior
Fear of a caregiver
Social isolation
Warning Signs of Nursing Home Neglect
Often, nursing home residents are neglected, not necessarily abused, for various reasons. For example, nursing staff who are overworked or don't receive adequate training and supervision can neglect residents, thus resulting in injuries or lack of proper care. Signs of nursing home neglect include;
Bedsores
Cuts and bruises
Depression and disorientation
Infections
Malnutrition
Dehydration
Unexplained weight loss
Inconsistent statements by staff members to explain the same occurrence or conditions
What Should You Do if You Notice Signs of Nursing Home Abuse or Neglect?
If you have noticed nursing home abuse or neglect, you should speak to a nursing home abuse and/or negligence attorney. An attorney can help you hold the staff member or nursing home liable for your loved one's abuse or neglect and recover compensation for things such as medical expenses, mental anguish, and pain and suffering.
Contact a London Nursing Home Negligence Attorney
Do you believe your loved one is a victim of nursing home neglect or abuse? If so, reach out to a London nursing home negligence attorney at Cessna & George Law Firm to schedule a free consultation.
Resource:
apps.legislature.ky.gov/law/statutes/statute.aspx?id=9061